Introducing Corvina Cloud 2.0
Built for Industry with all the particular requirements for this sector.
It is the standard for Industrial Cloud Connectivity and is the second phase in the Corvina Cloud development.
Born from Operation Technology speaking the language of the factory.
Corvina Cloud 2.0 is constructed with state-of-the-art technology specifically mapped for scalability, reliability and fault tolerance. As an open and secure cloud based connectivity management platform evolved from within the X Platform, it puts you in control of your IIoT business.
Corvina Cloud 2.0 aggregates real-time plant floor data into one user-friendly, accessible, and secure platform. Industrial companies of all kinds are able to improve processes, increase productivity, and make more informed decisions which lead to growing revenue, lowering operational costs, and dramatically enhancing your customer experience.
What Sets Corvina Cloud Apart?
Born from Operational Technology.
The vast majority of cloud offerings come from the IT world, which in the industrial sector have limits. These limits are seen clearly at the layer below the cloud where a vast array of protocols still exists. Although OPC UA pub/sub over TSN is the standard of communication, it will take many years for all field level devices to migrate to this communication. In the meantime there are many legacy devices and these will need an IIoT Gateway.
This is where the IT sector has difficulty and where Corvina Cloud 2.0 excels
On Premise Cloud with Enterprise level Security
Safeguard your customers and your business with multi-layered security to protect against unauthorized access to your IoT devices, data, and backend systems. Choose to store this data on premise rather than send to independent 3rd party cloud providers. With definable alarms to help stop rogue activity and prevent fraud.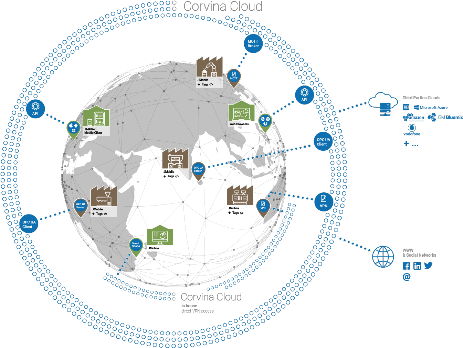 Enhance service reliability
Deliver the highest reliability with as real-time as is possible remote alerts to identify and respond to unusual activity in IIoT device. Analyze historical trends to drive cost-effective predictive maintenance.
Lower total cost of ownership with Analytics
Speed time to market and eliminate unpredictable costs with rules-based automated controls that lower total cost of ownership. It is possible to dynamically optimize rate plans, improving performance each and every 24 hours.
Increase Revenues with IIoT services
Transform your products into connected services. With Corvina Cloud 2.0, you can quickly roll out new services, keep costs in check, and meet customer needs in new ways that drive recurring revenue. Add further services in future such as mobile payments, different business model approaches in different markets etc etc.