Introducing Corvina Cloud 1.0
Connectivity Management
Corvina Cloud 1.0 is an advanced connectivity management solution that puts you in control of your IIoT business. Leading seamlessly from the JMCloud offering, Corvina Cloud 1.0 is powerfully robust, highly scalable and offers advanced VPN capabilities.
The user interface is incredibly clean and easy to use. Web-based it allows all your remote devices, networks and users to are able to communicate securely.
Corvina Cloud 1.0 can be offered as an on-premise cloud infrastructure that delivers the uptime and performance needed for industrial applications and control services at any scale.
Benefits
Single click of the mouse to access to the devices

Maintenance and Installation cost reduction

Increases Industry 4.0 implementation by completing the IIoT Whole Product Solution of the X Platform

New business services opportunity (predictive maintenance, etc.)

Shows location and status information of all devices in the field

Access to web server of device using standard browser on pc, tablet and mobile

Creation and management of multiple small companies on a same Corvina installation.

Break up a large enterprise into smaller departments, that shall remain separate and host all of them on a single Corvina installation.
Industrial advanced VPN for IoT Security encrypted using SSL/TLS protocol

Web access using standard browser

Live Map Dashboard

Remote and secure maintenance and installation

Subnet Mapping to access to all devices connected to the internal LAN
USB Provisioning in order to reduce installation time

Public Cloud or On-premise installation

Customization of the application links

Layered Security

Firewall settings are configurable

User and access management
Advanced VPN for IIoT Security
A powerful and highly scalable solution that offers advanced VPN capabilities with a simple web-based interface allows all your remote devices, networks and users to be able to communicate seamlessly.
Industry standard encryption technology ensures your data stays protected in transit for complete IoT security.
Granular role-based access permissions allow users to only gain acces to required resources and nothing else
Isolating for Maintenance and Installation
Corvina Cloud 1.0 uses a SSL VPN technology (OpenVPN) to allow both installation and maintenance to be made remotely and highly securely.
Non functioning devices can be identified from the portal and isolated to be worked on.
This can help save time and money and minimize network downtime.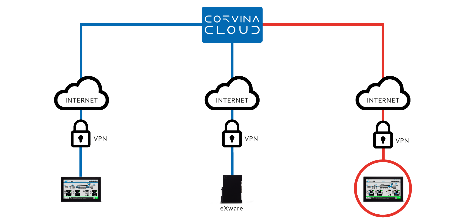 Applications
In traditional VPN solutions, there is no support for helping users to identify or link their local applications to remote VPN resources. This has the consequence that users have to remember IP addresses or require the use of complicated DNS systems.
Corvina Cloud 1.0 solves this issue by allowing you to specify "application links" which will launch a local application on a user's computer and connect it to a remote resource automatically and with just a single click of the mouse.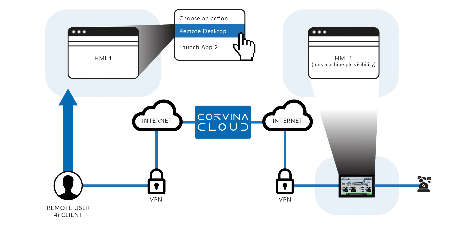 Subnet Mapping
One of the most common challenges industrial networks are faced with is the problem whereby multiple locations have the same subnet, making it impossible to implement a central VPN management tool without significant intervention.
Corvina Cloud 1.0 is the only solution on the market that can seamlessly resolve this routing nightmare, allowing your deployment to go smoothly.